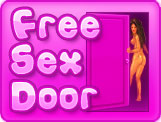 Joining Free Sex Door Members Area
Fill in your e-mail address to gain free access to our members area which contains high quality content from major paysites. I won't share your e-mail with anyone. You'll only receive a confirmation e-mail + an occasional, interesting newsletter sent only 0 - 7 times per year. No spam.
There's an unsubscribe link in every newsletter I send.